The ASIA Rainbow Ride will take place this October 22th- 24th, 2021 during Taiwan's Pride month.  The trip is a fully supported three-day, two night cycling event through the northern coast of Taiwan from Yilan to Taipei. We'll bike a total of 219 kilometers over the three days.
Space is limited to 75 participants to stay within Level 2 restrictions due to COVID. This is a ride, not a race. We will try to group together riders based on their speed. We will bike at a leisurely pace with stops along the way. We partner with Taiwan Bike Tour, a professional bike tour company for our logistics. 
Rest assured we have a flexible cancellation policy. If you need to cancel for any reason up to 41 days before the event, you will be refunded 95% of the fees minus a 1000NT registration donation. If the event is canceled due to COVID, you will be refunded 100% of your fees minus the 1000NT registration donation. The donation goes to support our NGO beneficiaries as well as pay for any costs incurred in the planning process.
ROUTE
On October 22, we'll meet in front of the Red House in Taipei in the morning for our Opening Ceremonies. Buses and support vans will pick us up with our suitcases and bikes to transport us to our starting point at the beach town of Yilan. From there we will head up the northern coast of Taiwan. We'll bike for three days, ending in Ximen, the heart of the LGBT community in Taipei for our Closing Ceremonies.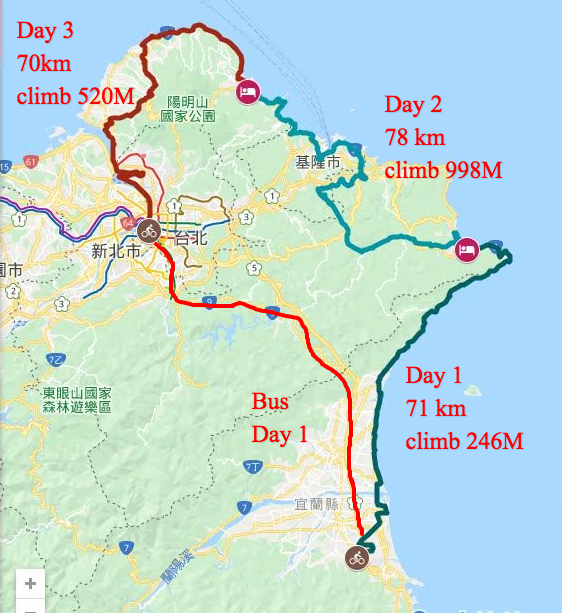 COST
The fee is 15,000 NT. This includes professional cycling guides, van support throughout ride, hotel room with roommate, meals, snacks, and travel liability insurance in case of accident. In addition, your fees cover Rainbow Ride programming, t-shirt, and donation to our three NGO beneficiaries.
Additional cost of 1050 NT if you need to rent a standard bike from us. 

The first 20 registrants renting bicycles will get an upgrade to a Rikulau Premium Grade Chromoly Road Touring Bike.
Additional cost of 3750 NT to rent an eBike from us.
Additional cost of 4300 NT if you would like a hotel room without a roommate.
Please complete the registration form with your hotel and bike rental requests, and then we will send you payment instructions. Payment can be made by bank wire transfer or credit card.
DISTANCE AND SPEED
We are planning to cycle approximately 70km a day. This is a ride, not a race. About 50% of the cycling will be alongside cars on the road, and 50% will be on designated bike paths. Cyclists will be grouped by pace with a guide leading and there will be rests and lunch over the duration of the day. There is a pace for every rider. Whether you are a seasoned cyclist or a beginner, there is something for everyone.
BIKES
You can bring your own road bike or rent one from us for the event. E-bikes are available for rent to give you an extra boost as well if you are a beginning cyclists concerned about the distance.
HOTELS
You can choose your roommate for the two nights to share the costs of a hotel room. If you are coming on your own, we will try our best to pair you with another participant of your same gender to share a hotel room. If you prefer to have your own hotel room, this can be arranged for an additional cost.
The first night we will all stay at the 5 star Fullon Hotel in Fulong right on the beach. This hotel has a luxurious sauna available to participants.
Our second night we will stay at the 4 star Loft Seaside Hotel which has hot springs! Once we reach capacity at this hotel, additional participants will stay at the Dapu Hot Springs Hotel across the street.
PROGRAMMING
In addition to cycling, we have some programming included to make this a festive and fun event.
October 22nd morning: Opening ceremonies at Red House

October 22nd evening: Sunset yoga upon arrival to hotel by Chris of Oceansound Yoga Festival.
October 23rd morning: Q

igong and meditation on the beach before ride out.

Oct 23rd evening: Hot Springs at hotel. Film screening of Taiwan Equals Love.
October

24th evening: Closing ceremonies at Mudan Bar at the Red House with a fabulous Drag Show of Taiwan's best talent! Please invite family and friends to join in and welcome you home.