"I'm touched by the community along the ride. People are encouraged to be themselves and have fun. We're a diverse group...a mix of LGBT people, allies, local Taiwanese, and foreign residents. The cycling distance is a challenge, but the energy of the group pushes you."
"As a straight person, I wanted to join this ride because I'm cycling for love. I feel like no matter who you are, you should be accepted for who you are. I support humanity. I support love."
"This event is not just about riding a bike. It's also about lifting up Asia. I hope Taiwan can use its standing to help other LGBT communities in Asia."
"We're so happy to support the growth of ASIA Rainbow Ride in Taiwan. I know that the international LGBT community will love to join in this yearly event once world travel is possible again. Events like these bring our world together and promote the love and light of our community."
2020 Inaugural ride recap
130KM of riding over two days along the northern coast of Taiwan from Taipei to Fulong – This is a life-affirming experience that celebrates LGBT+ freedom and diversity. This ride is for LGBT, straight allies, Taiwanese and foreigners. All are welcome.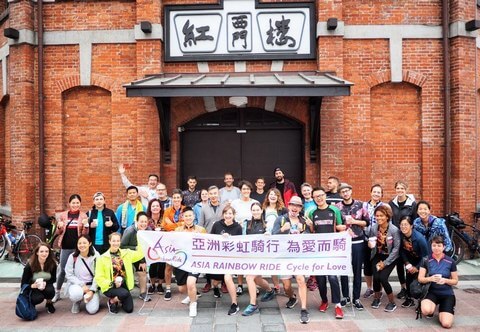 Meet new friends, explore new areas, and train for the upcoming Rainbow Ride. Join us for a leisurely training ride along the riverside in Taipei, ending with some socializing while watching the sunset. We'll meet around Taipei once a month on a Sunday afternoon. 
Funds raised from this ride will go to support the organizations working for LGBT+ freedom in Asia. 
We are a group of 6 friends from Taipei, Singapore, Malaysia, San Francisco, and Shanghai who share a dream to create a life-changing experience that uplifts the LGBT+ movement across Asia.